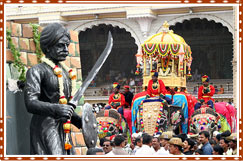 Over the years Mysore has become synonymous with the Dasara (or Dussehra) festival. Dasara is the most extravagant festival of Mysore. This festival has been celebrated in Mysore with great pomp and show since centuries. This tradition is still carried on though the scale of the celebrations has been watered down. The Dasara festival is celebrated in the months of September and October each year. According to Hindu mythology the festival celebrates and commemorates the victory of Goddess Chamundeshwari after slaying the demon Mahishasura and the triumph of good over evil. The Dasara festivities have become an integral part of the culture and life in Mysore.
During the 10 day festivities the normally clam, slow, peaceful city erupts into life and every street and street corner is bustling with activity. House, shops and important buildings in the city are decorated and illuminated for the period of the celebrations. Today Dasara in Mysore has become the state festival of Karnataka. As part of the celebrations renowned musicians of Karnataka and from outside perform in front of the illuminated Palace. The Palace is open to the public and the royal throne is displayed. The State Government arranges music, dance, and folk dance performances, doll shows. Wrestling and sports competitions are held.
A two-month long Dasara Exhibition is held at the Doddakere Maidan, in which several business and industrial houses take part. Apart from this a Food and Film festival is also organized. During the festivities special religious ceremonies are held at different temples in Mysore especially the Chamundeshwari Temple on top of the Chamundi Hills. The high point of the Dasra celebrations is the Vijayadashami procession held on the tenth day. The finale of the celebrations is the state organized procession consisting of floats, the police and their bands, mounted guards in royal livery and folk artists and musicians.
Some traditional items of the royal family form part of the procession. The main attraction of the procession is the idol of Goddess Chamundeshwari kept in the golden howdah on top of a decorated elephant. The procession begins at the Mysore Palace and ends at the Banni Mantapa grounds, traveling a distance of about 2.5 miles. The procession is followed by a torch light procession in the evening and a stunning display of fireworks.