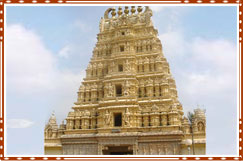 The Shweta Varahaswamy temple is also known as the Varahaswamy temple. This temple is located at the southern entrance of the Fort. The temple is built in the architectural style followed by the Hoysalas. The shrine of the Goddess has an elegantly carved doorway and intricately carved pillars and tower. The Navaranga has stucco niches at the sides of the entrance. The Navaranga has beautiful mural paintings on its walls. These paintings depict incidents from the Ramayana and the Bhagavata. These paintings especially pay attention to the exploits of Lord Krishna.
The temple has images with inscriptions on their pedestals. There is an inscription on a processional image that records that its donor was Chikka Devaraja Wodeyar (1672-1704). It is said that Chikka Devaraja Wodeyar obtained the stone image of Shweta Varahaswamy from Srimushnam, a city in what is the present day Tamil Nadu and consecrated it at the new temple built in Srirnagapatna, the then capital of Mysore State. After the defeat of Tippu Sultan the capital was shifted back to Mysore city and the idol too was shifted from there and installed in the sanctum sanctorum of the present temple in 1809.
It is claimed that Dewan Purnaiya had this temple built with materials of a Hoysala building in Shimoga district according to the wishes of Krishnaraja Wodeyar III. There are two inscribed images of Srivaishnava Acharyas, Desikar and Jiyar, in the temple. Desikar also known as Vedanthacharya was a popular Sri Vaishnava teacher and author in the 13th and 14the centuries. These statues have inscriptions on them that indicate that Krishnaraja Wodeyar III presented them to the temple at Mysore that he built in 1829. The temple structure has a number of masons' marks and letters in several places.
There is an inscription Maya Bhadra in characters if the 12th or 13th century on the southern outer wall of the shrine of the goddess. It is not clear what the expression means and whether it refers to the artist or to the niche itself. The temple is enclosed within high walls. The southeastern wall has a mural representing Rama Pattabhisheka or the coronation of Lord Rama. The painted inscription under the painted panel states that the painting was made on Monday the second of the bright half of the month Magaha in the cyclic year Bhava of Saka era 1797.