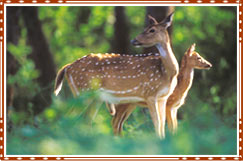 Another interesting place that you can visit while in Mysore is the Bandipur National Park. This Park is about 80 km from Mysore city and is a peaceful retreat in nature's lap far from the din of the city. After going around the vibrant city of Mysore and visiting all its treasures take some time off to unwind and enjoy quite peace of the lush green forests.
The Maharaja of Mysore set up this Park in 1931. The Park is at the foothills of the Nilgiri Hills. The Park has well laid out roads that lead you into the heart of this Park. Here you can see a wide variety of birds and animals in the natural habitat. This Park is home to a number of rare and endangered species of birds and animals. The World Wildlife Fund has chosen the Park for their project tiger scheme to protect tigers in India. The Park has accommodation for visitors as well. There are cottages that are run by the Forest Department, a hotel run by the Karnataka Tourism Department and some privately managed cottages as well. So there is no difficulty finding accommodation in the Park. Gundelpet is the closest town to the Park and is about 20km from it. Here too one can find accommodation.
The forest department has a number of safaris that are conducted within the Park. These safaris are conducted in well-protected buses. The animals that one sees commonly are deer, antelope, elephants and peacocks and occasionally on can see elephants and tigers. The forest department also organizes group treks inside the park lead by professionally trained guides. One can take a trip of the sanctuary on an elephant as well. The highest point on the sanctuary is the Gopalswamy Betta (Hill). This hill has a temple of Lord Venugopal on the top that you can visit.