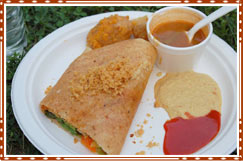 Mysore is in South India and like all the other states in this part of the country, most of the food is rice based. There is more to Mysore cuisine that the famous dosa and idli that is well known all over the world as the food of the South. Though idli and dosa form an important part of the cuisine of Mysore but the different types of dosas and idlis and chutneys to accompany them will take one by surprise. Traditional Mysore breakfast is simple, wholesome and delicious. Most of them are rice based and are normally served with chutney.
Though the all time favourite is dosa with potato filling eaten with sambar and coconut chutney and onion chutney. There are other types of dosas like set-dosa, rava or semolina dosa. Another type of idli that is commonly eaten is 'thatte idlis' (flat idlis). The other popular breakfast is 'uppittu' (roasted semolina laced with chillies, coriander leaves, mustard and cumin seeds). The other dishes that are common eaten as breakfast are puri palya, uthapam, vada sambar and kesari bath (a sweet made of semolina and sugar laced with saffron).
A traditional lunch of Mysore is a splendid spread that includes a number of essential dishes. These includes a cereal salads like kosambri, palyas (vegetable salads made of parboiled vegetable chopped finely and tossed with grated fresh coconut, green chillies, curry leaves and mustard seasoning), gojju(a vegetable cooked in tamarind juice with chilli powder), tovve (cooked dal without much seasoning), huli or saaru (a thick broth of lentils and vegetables cooked together with ground coconut, spices, tamarind and chilli powder) and pappad.
There is a range of rice-based dishes as well that include chitranna (rice with lime juice, green chilli turmeric powder sprinkled with fried groundnuts and coriander leaves), vangibath (spiced rice with egg plant) and pulliyoigrae (rice falvoured with tamarind juice and garnished with groundnuts) are part of the traditional food of Mysore. The most distinctive Mysore dish is the famous bisibelebath a sumptuous combination of rice, lentils, tamarind, dried coconut, chilli powder and spices. In rural Mysore like in the other parts of Karnataka ragi muddae (steam-cooked finger millet powder rolled into large balls) eaten with soppina huli or saaru(thick broth made with edible green leaves and lentils) or mutton curry.
Desserts:
To complete your delicious meal, indulge in some of the unique sweets of Mysore like chiroti (a light flaky pastry made of flour, sprinkled with powdered sugar and soaked in almond milk), Mysore Pak (gram flour fudge), obbattu or holige (a flat, wafer-thin chappati filled with a mixture of jaggery, dried coconut and fried gently on a skillet) and shavige payasa (made of milk, vermicelli, sugar, dried fruits and cardamom pods).