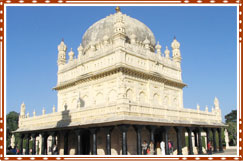 Srirangapatnam is about 14kms from Mysore. While visiting Mysore it would be a good idea to visit Srirangapatnam as well. Srirangapatnam was the capital of the Mysore State under Tippu Sultan. As a result there are a number of historical monuments related to the life and times of Tippu Sultan. After the death of Tippu Sultan in 1799AD the British shifted the capital back to Mysore.
The Daria Daulat Palace, the Palace of Tippu Sultan in Srirangapatnam is a beautiful Palace built mainly of teakwood. The walls of the Palace are covered with colorful frescoes that represent the reign of Tippu Sultan and the different battles that he fought. Tippu built the Masji-e-Ala or the Juma Majid at Srirangapatna as well. This mosque has tall lofty minarets that dominate the skyline of Srirangapatna. The Ranganathaswamy temple in Srirangapatnam is very famous. It has the idol of Lord Vishnu as Ranganatha reclining on the serpent Ade Shesha.
The tombs of Tippu Sultan, his father Hyder Ali and mother Fathima Begum are laid out in the Gumbaz. The Gumbaz is a major tourist attraction because of its architecture and craftsmanship. It has enormous ebony door inlaid with ivory. The dungeons of Srirangapatna where the British soldiers were held captive also attract tourists. One should visit Tippu's Fort, where he launched his attack on the British and died there fighting them.
Srirangapatna also has the Ranganthittu Bird Sanctuary that attracts hundreds of migratory birds from all over the world. The sanctuary is also home to flying bats and marsh crocodiles. This wonder of nature is an ideal place to unwind and enjoy nature. Another popular picnic spot set in beautiful lush green surroundings is the Sangam where the River Lokapavani joins the River Cauvery. While in Mysore it is worth visiting Srirangapatnam because of its historical importance and natural beauty.