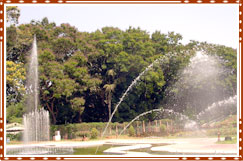 Mysore is a major tourist city of Karnataka. The city was the erstwhile capital of the state and hence has played an important role in the history of the state and of South India. Today it has developed into a modern city like many other cities in the country. But this city has not lost touch with its rich historical and cultural legacy. Mysore city is a favourite tourist destination in Karnataka. Tourist from within the country and from outside come see the splendour of the city of Mysore. The city has a number of places a person can visit. There are a number of Royal buildings, gardens, waterfalls, temples, museums and modern amusement parks.
The city of Mysore is known as the 'City Of Palaces'. There are number of buildings built by the Royal family and are exquisite examples of Dravidian architecture and display grandeur and lavish life lead by the Emperors while they ruled the state. Apart from the Palaces there are number of other tourists attractions that one can visit in Mysore. One of the popular spots is the Chamundi hills and the temple on top of the hills. This prominent landmark of Mysore is a favourite destination for the locales as well.
The KRS dam and the adjoining Brindavan Gardens are worth visiting. The Brindavan Gardens is one of its kinds in the country. It is famous all over for its colorfully lit dancing fountains that come alive once the sun sets. There are three lakes in Mysore that have become a haven for migratory birds and are set in lush green surroundings that are relaxing and worth visiting. The Mysore Zoo is the oldest Zoo in the country and was set up by Maharaja Chamaraja Wodeyar in 1892.
The Zoo flourished under Royal patronage and was handed over to the Government after independence. Today the Zoo is equipped with the most modern facilities and is a pioneer in breeding animals in captivity. Another famous monument of Mysore city is the Philomena Church that has a relic of the 3rd century St. Philomena preserved in a catacomb in below the main altar. The Church is also famous for its 175 feet high spires. These are some of the important sights to see in Mysore city.