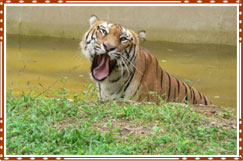 Besides the place of interest in Mysore city, there are many tourist attractions and places of interest around Mysore. Lets have a quick look at some of the tourist destinations around Mysore.
Somnathpur :
The star shaped temple at Somnathpur is a splendid example of Hoysala architecture. It is embellished with a profusion of finely sculpted friezes and panels. The Somnathpur temple is well preserved and not to be missed.
Bandipur National Park :
The Bandipur National Park has open forests and facilities for viewing wildlife from elephant back.
Talakad :
Talakad is situated on the banks of the river Cauvery, near Mysore and is known for its sand dunes. There are a number of temples on the banks of the Cauvery in Talakad that are buried under the sand dunes and are excavated once in 12 years for special worship.
Shravanabelagola :
Shravanabelagola is another place worth visiting while at Mysore. Shravanabelagola is famous for the monolith of Bahubali or Gommateshwara. There are two stony hills called Chandragiri and Indragiri. Chandragiri is famous for the Chandragupta Basadi built by the Gangas. Indragiri is famous for the Chavendaraya Basadi and the gigantic statue of Gommateshwara.
Biligiri Rangana Hills:
Another interesting getaway from Mysore for nature enthusiasts is the Biligiri Rangana Hills popularly known as the B.R.Hills. Though these hills are famous for the ancient temple on top of the hills, it is also home to a lesser-known wildlife sanctuary.
Coorg :
Situated at a distance of 120 kms, is a little hill-station that covers an area of 4102 sq km.
Melkote :
Another important pilgrim center that is close to Mysore is Melkote or Tirunarayanapuram. Melkote is about 60kms from Mysore city and is located in a hilly region that comprises some of the oldest rock formations on earth.
Nanjangud :
Another popular excursion from Mysore city is Nanjangud. Nanjangud is 25kms from Mysore. It is a holy place because of the Nanjundeswara or Srikanteswara temple. It is called Garalapuri because of this famous temple.
Shivanasamudra Travel:
Shivanasamudra is about 85kms to the east of Mysore. At Shivanasamudra the river Cauvery cascades down a deep rocky gorge in two breathtakingly beautiful waterfalls- Bharachukki and Gaganachukki. The sight of these two falls is enchanting and the best time to visit them is during the monsoon.