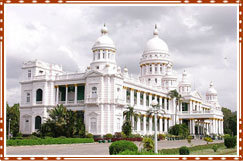 Mysore was the capital of the Karnataka state before Bangalore. As a result it was the place from where most of the Royal families ruled over Mysore State (Karnataka's previous name). Hence the Mysore city is dotted with many building but by the Royalty of the time. The buildings built by the Wodeyars are especially noteworthy. Most of the Royal buildings and temples have either been improved upon by the Wodeyar Kings or been built by them. But credit must be given to the citizens of Mysore as well who have helped maintain these buildings in excellent condition that they are being used to this day.
The Maharaja's Palace or Ambavilasa Palace or Mysore Palace was the official residence of the Emperor and his family. Today the splendid building is a national treasure and a major tourist attraction in Mysore. It is said that the site where the Palace stands has seen four different types of Palace. The original Palace of Maharaja Chamaraja Wodeyar was made of wood and mud was partially burnt down during the wedding of his eldest daughter. The Palace that exists today is the one that was rebuilt after the fire. The Lalitha Mahal Palace was built by the Wodeyar to accommodate the Viceroy of India on his visit to Mysore.
Today this Palace has been converted into a heritage hotel. The other Palace in the city is the Janganmohan Palace. This was the Palace that the Royal family moved into after the Ambavilas Palace was burnt down. They stayed in it till the Main Palace was rebuilt. Today it is the Jayachamarajendra Art Gallery, one the best art galleries in South India and displays artwork and artifacts that belonged to the Royal family. Maharaja Chamaraja Wodeyar built three grand royal mansions for his three daughters. The three mansions are Karanji Mansion, Jayalakshmivilas Mansion and Cheluvamba Mansion.
These mansions are so well maintained to this day that they house important institutions today. The Karanji Masion houses the Postal Training Institute of the Department of Posts, Government of India. The Jayalakshmivilas Mansion is part of the
Mysore University
campus and houses the Folklore Museum. The Cheluvamba Mansion houses the Central Food Technology Research Institute. All the Palaces and Mansions are surrounded by carefully planned, sprawling beautiful gardens. A visit to these royal buildings will give you an idea of the splendid craftsmanship and architectural excellence that was achieved during the reign of the Wodeyars.