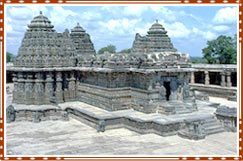 Somnathpur is a small village on the banks of the river Cauvery that was founded by the commander of the Hoyasala army, Somnath. The village is famous for its splendid and grand Keshava temple that has been built in the Hoyasala style. The temple is famous for its elaborate and intricate sculpturing. The temple is enclosed in a walled courtyard that has a gate and a porch. The temple is built on an elevated star shaped platform.
The sides of the raised platform are decorated with richly carved friezes, portraying rows of cavalry, elephants and scenes from the epics. The rows above have sculptures of Gods mainly Vishnu in various forms. The shrine has three shrines and three sanctums. The temple has three intricately carved pinnacles and a common Navranga. The northern sanctum has the idol of Lord Janardhana and the southern sanctum has the idol of Lord Venugopala. The main hall has exquisitely turned pillars and ceiling panels. The image of Lord Keshava that once adorned the main hall is missing today.
The temple is an example of the grand and glorious temples built by the Hoysala rulers. The names of the sculptors are inscribed on their works, which was a common practice during the reign of the Hoysalas. This temple is as beautiful as the world-renowned Belur and Halebid temples and is worth visiting while is Mysore.