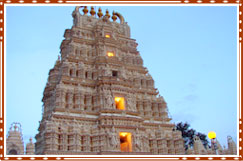 Krishnaraja Wodeyar III built the Prasanna Krishnaswamy temple. This temple is dedicated to Lord Krishna the founder of the Yadu dynasty. Construction of temple began 1825 and was completed in 1829. He presented the temple with about 40 bronze statues of Gods, Goddesses and saints. His name was inscribed next to the name of the statue. There is a statue of Krishnaraja Wodeyar III along with his wives with labels on their pedestals. The statue of the Maharaja is also worshipped.
In the prakara or the enclosure of the temple is a small cell enshrining the figure of the sage Atri. The figure of the sage was installed, as he was the gotra-rishi of the Maharaja. In the shrine of Ramanujacharya in the temple, there are three small stone figures of Paravasudeva, Anathasayana and Rajamannar (a form of Lord Krishna). The Navaranga (the central pillared hall) of Prasanna Krishnaswamy Temple has beautiful murals on its walls. The murals represent stories from Bhagavat the epic relating to Krishna.
These murals along with those in the Varahaswamy temple are exquisite examples of the distinctive and exceptional 19th century Mysore paintings. The sanctum sanctorum has a beautiful statue of Lord Krishna in the crawling posture, Ambegalu Krishna. The statue is made of chlorite schist. He has a butterball in his hand and a childish expression. This temple is known for its Kirshna Janmashtami celebrations. During the eight day celebration of Lord Krishna's birthday a religious procession is organized from this temple.