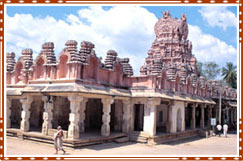 Another important pilgrim center that is close to Mysore is Melkote or Tirunarayanapuram. Melkote is about 60kms from Mysore city and is located in a hilly region that comprises some of the oldest rock formations on earth. Cradled in the middle of these hills is the temple town of Melkote. This town gained religious importance in the 12th century AD when the famous South Indian Vaishnava philosopher and teacher, Sri Ramanuja lived in Melkote for around 12 years.
Life in Melkote is centered around the Cheluvanarayanaswamy temple in the town and the Yoganarasimhaswamy temple on the hill overlooking the town of Melkote. It is these temples that have made the town a popular tourist attraction. These temples have helped to preserve the tradition of the town and at the same time is a repository of all the knowledge of culture. The temple premises houses the oldest Sanskrit Pathsahala in India that dates back to 1853.
The School continues to provide instruction in Sanskrit and Indian Philosophy. As a result of this rich cultural and traditional heritage it has been found that Melkote has managed to retain its traditional nature over the centuries. Studies have shown that there has been very little change in the town of Melkote. The changes have been minor whether in the town plan, type of houses or cultural practices. So visiting Melkote is like visiting our cultural heritage in its living form.
The festivals held at the temple involve the entire town. Some of the important festivals held in the temple are the Vairamudi Utsava, Teppostsava and the birthday or Tirunakshtram celebrations of important saints. What is unique about Melkote is that some folk festivals like the Angamani festival have been integrated into the temple rituals thus making all celebration meaningful to the common people.