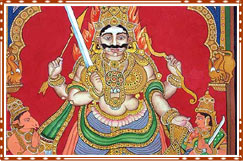 The erstwhile state of Mysore established a unique and distinctive form of painting in the 17th and 18th centuries. Over the years this form of painting has become popular by the name Mysore School. This form of painting was at its zenith during the reign of Maharaja Krishnaraja Wodeyar III. Traditional Mysore Painting was normally done on paper pasted on cloth or wood. After the sketch was made, a distinctive relief world called gesso was done in the areas where jewellery and other ornamentations were to be painted. Gesso was done to enhance these areas. These areas were later covered with 24K gold leaf and then the painting was given the final touches.
After the painting was completed it was allowed to dry thoroughly. Then a thin paper was placed on top of if and rubbed with a soft smooth stone to enhance the richness in the relief work done with gold foil. In those days artists used vegetable dyes and mineral colors and prepared all the materials they required by themselves. There are numerous examples of mural paintings in temples and palaces in different parts of Karnataka. These paintings are a testament to the rich painting culture of Mysore. The themes of these paintings are largely religious and are taken from the Ramayana and the Mahabharata.
There are a few secular themes based on the day-to-day life of the period. The murals found in Srirangapatna have historical and political themes making them more distinctive and unique. The famous Mysore Gold Leaf Paintings can be found at Jayachamarajendra Art Gallery at Jaganmohan Palace, Mysore; the Maharaja's Palace, Mysore; Daria Daulat Bagh in Srirangapatna; and the Venkatappa Art Gallery at Bangalore.