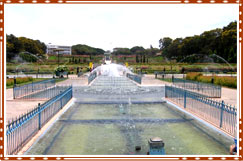 One of the most visited places in Mysore by locals and by tourists is the famous Brindavan Gardens. Located about 19kms from the heart of Mysore these beautiful gardens are laid out below the Krishnaraja Sagar dam built across the river Cauvery. These gardens are famous for the illuminated dancing fountains that come to life after sunset. The Krishnaraja Sagar Dam (KRS) (known as Kannambadi to the locals) itself is a superb example of excellent engineering and itself is a tourist attraction in Mysore. Sir M. Vishveswariah, one of India's finest engineers, built it in 1924.
He used 'surkhi' a mixture of limestone and brick powder instead of cement. The dam was among the first in the world to have automatic sluice gates. The dam is named after the then Maharaja of Mysore Sri Krishnaraja Wodeyar who financed the dam. The dam is 3 kms long and is located at the confluence of the rivers -Cauvery, Hemavati and Lakshmanathritha. The lake that is formed by the dam is one of the largest in India. The dam is a multipurpose project conceived by Sir M. Vishveswariah for supplying water to the agricultural lands of Mandya and Mysore districts and for ensuring power supply to the Shivanasamudra project.
Sir M. Vishveswariah is often called the architect of modern Mysore and "the father of planning in India". The gardens were designed by Sir Mirza Ismail another important and progressive Diwan of Mysore. Spread over an area of 150 acres, the Brindavan Gardens is considered one of the best gardens in India. The garden not only been meticulously laid out and has beautiful lawns and shrubs, but has thousands of fountains in different shapes and sizes that are lit with colorful lamps and are set to pleasant music.
The best time to visit the gardens is after sunset when all the bright colourful fountains come alive and seem to dance with joy to the accompanying music. This is a sight worth beholding as the entire garden is transformed into a fairyland. The Brindavan gardens remain illuminated from 7.00pm to 7.55pm from Monday to Wednesday and from 7.00pm to 8.55pm on Saturdays and Sundays.