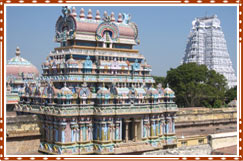 Gumbaz :
This is the mausoleum of Tippu Sultan; his father Hyder Ali and mother Fathima Begum. Tippu in built the magnificent structure in 1782-84. The Gumbaz is surrounded by the beautiful garden the Lalbagh. The Gumbaz is built on a high and wide platform with an open verandah that has polished pillars all over. The Gumbaz has a large well-shaped dome, it has beautifully carved ebony doors inlaid with ivory, the Gumbaz has carved stone windows with excellent work on it and inscriptions. Inside the tomb Hyader Ali has been laid to rest in the middle and on either side are the tombs of his wife and son. Tippu's tiger stripes cover the walls of the Gumbaz. Next to the Gubaz is a mosque Masjid-e-aksa. One can reach this site by bus or take an auto from Srirangapatna.
Sangam :
The Sangam is the place where the River Loakpavani joins the River Cauvery. This is a popular picnic spot and is a beautiful place. From here the river follows into the Mettur Dam in Tamil Nadu. From Srirangapatna you can take an auto to this spot.
Colonel Bailey dungeon :
These dungeons are called this because Colonel Bailey died in these dungeons in 1780AD. Captain Baird, Captain Rulay, Colonel Brithwite, Samson, Frazer and Lindsay were also imprisoned in these dungeons. During the siege of Srirangapatna, one cannon rolled back, pierced the ceiling and fell into the dungeon. And to this day it is lying there.
Fort :
It is from the Fort that Tippu launched his attack against the British. There is an obelisk in the fort in the place where he died, after being betrayed by his own men. Inside the fort there is a mosque and the Ranganathaswamy Temple and outside the fort is the tomb of Tippu, the Gumbaz.
Ranganathaswamy Temple:
The Ranganathaswamy temple in Srirangapatna enshrines Lord Vishnu as Ranganatha. It is said that the Ganag ruler Tirumalaiya built this temple in the 9th century. Srirangapatna was the capital of Tipu Sultan and it is said that both Tippu Sultan and his father Hyder Ali made generous endowments to the Ranganathaswamy temple. This enormous temple has fort like walls and an intricately carved gopuram. The architecture is a mixture of the Hoysala and Vijayanagar styles. Lord Ranganatha is shown reclining on the bed laid out by the serpent Aadi Sesha. Within the complex there are temples of Gowtama muni and the River Cauvery. There is a shrine dedicated to Ranganayaki Thaayaar in the northwest corner of the temple. There is a temple dedicated to Krishna as well. The Alwars and the Acharyas of the Sri Vaishnava faith are also immortalized here. There are two images of Srinivasa and Panchamukha Anjaneya. It is claimed that Vyasaraya installed them in this temple. The Chaturvimsati pillars before the inner entrance has the cravings of the 24 forms of Vishnu.