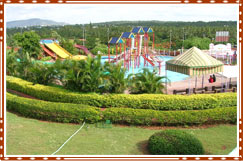 There are other tourist attractions in Mysore that are not as famous as the Palaces and temples of Mysore. But these attractions are worth visiting.
Balmuri and Edmuri Waterfalls :
When you travel from Mysore to the KRS dam, 3kms off the main road are the two small beautiful waterfalls. They are Balmuri and Edmuri waterfalls. The place where the waterfalls are located is surrounded by lush greenery and is a hot spot among the locals as well. A visit to this place is calming and relaxing. There is an ancient Ganesh temple close by that you can visit. You will have to hire a taxi or an auto to get to these waterfalls.
Blue Lagoons :
About 2kms from the KRS dam there is a small enchanting island created by the backwaters of KRD dam. You can reach the place by wading through the shallow waters around the island. It is an excellent picnic spot and you can unwind on this pleasant island. You can take an auto from KRS dam to reach this island. Mysore has developed into a modern city and has all attractions of a modern developed city. There are amusement parks in Mysore that you can visit with you family and enjoy an exciting evening.
GRS Fantasy Park :
GRS Fantasy Park is an amusement cum Water Park that can rival any other amusement park in any of the modern cities of India. GRS Fantasy Park is spread over 30 acres. The park caters to the needs of all ages. There is entertainment for the young and the old. The young can take the exciting and adrenaline pumping rides available in the park while the older people can relax in the country club and there are a number of indoor games they can take part in as well. The park provides wholesome entertainment for the family and is a thrilling experience for the young in a safe environment. The park boasts of a unique ride- this ride involves a huge slide that has a height of 35 feet and a width of 135 feet. A person who takes this ride will experience both forward and backward motion from a height of 35 feet in succession and this is what makes the ride thrilling. The park is open to the public from 10.30am to 6.00pm every day.
Planet X :
Planet X is another modern entertainment center in the city. Planet X is about 5kms from the Mysore Zoo. It is the ideal place to spend with friends on a weekend or to have a birthday party. The center has Go-carting facility, a bowling alley, a mini golf course, video games, a bar cum cocktail lounge and a family restaurant where you can have a private party.