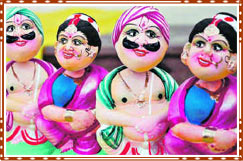 If you are a resident of Karnataka, then you will know that there are some things that are synonymous with the city of Mysore. Mysore Silks, Mysore Jasmine (Mysore Mallige), Mysore Sandalwood (Mysore Srigandha) and Mysore Eggplant (Mysore Badane) are the things that the city is famous for. For centuries now the city of Mysore has been famous for these things and this tradition continues to this day. The craftsmen of Mysore are equally famous. The city has some of the most beautiful and intricately carved temples in Karnataka. This tradition exists to this day, though the craftsmen use sandalwood and rosewood to carve on and make exquisite artifacts.
Mysore is known all over the world for its silks. The women in India and especially in South India have used silk sarees for a very long time. Silk sarees are worn especially on religious and auspicious occasions. The cost of a silk saree depends on the amount of 'zari' or gold it contains. Most sarees have gold lace on both edges of the saree and on it's pallu-the part of the saree that is wrapped over the shoulder. There are private weavers in Mysore and there is the Government Silk Weaving Factory that produces beautiful silk sarees, silk fabric and ties. This factory has its showroom on Manandavadi Road and also in the shopping area around KR Circle in Mysore. There are numerous Private showrooms that sell Mysore silks. Mysore crepe silk sarees are the most sought after ones.
Mysore is famous for its handicrafts as well. Most of the work is wood based. The artifacts are made out of sandalwood, rosewood and teakwood. In the olden days Mysore was known for its ivory handicrafts and inlay work. With the ban on ivory this craft has disappeared. Mysore is best known for its sandalwood artifacts and sandalwood products. Craftsmen produce figures of Gods, Goddesses, jewel boxes, small gift items etc. Sandalwood powder and sandalwood oil is also available. Inlay work on rosewood is also popular. Things like teapoys, coffee tables and other items of furniture are made. The best place to buy these things is the Cauvery Handicrafts Emporium of the Karnataka Handicrafts Development Corporation.
Besides these items Mysore is also famous for Agarbathies or incense sticks. A large variety of incense sticks are manufactured by small and large manufactures. It is manufactured here using locally available perfumes like sandalwood and jasmine and the exported for Mysore and Bangalore to the rest of the world. Mysore is famous for its stone carvings and paintings as well. Oil based and water based paintings are famous. A branch of the traditional Mysore painting known as Ganjifa paintings that flourished under the patronage of Krishnaraja Wodeyar III has been revived. These paintings are of Hindu gods and goddesses. The best place to get all these items is the Government Handicrafts emporium in Mysore.