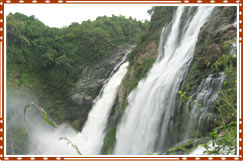 Shivanasamudra is about 85kms to the east of Mysore. At Shivanasamudra the river Cauvery cascades down a deep rocky gorge in two breathtakingly beautiful waterfalls- Bharachukki and Gaganachukki. The sight of these two falls is enchanting and the best time to visit them is during the monsoon. The falls are considered to be one among the 100 best waterfalls in the world. The waterfalls are pristine and are not easy to approach as they are too steep and rocky.
The Bharachukki and Ganganachukki falls are created as the River Cauvery roars down a 75-meter gorge. The river divides around the 700-acre picturesque Shivanasamudra Island. On the one side, it forms the Gaganachukki falls and on the other side are the Bharachukki falls. It is said that the Gaganachukki falls are shaped like a large horsetail and Bharachukki is a jagged crashing cascade. These falls are beautiful no doubt but during the monsoon the falls swell to about 1, 000 feet wide.
This is a famous picnic spot as the surroundings are lovely and pleasing. And one can take a much-needed break from the hectic day-to-day life in nature's lap at this spot. So you have the time you could take a break from the city of Mysore and visit Shivanasamudra.