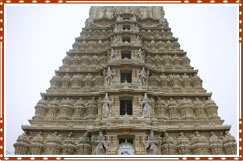 Mysore is known as the 'City of Palaces' but it has a number of beautiful temples as well. The members of the Royal family of Mysore were very religious and hence built new temples, renovated and expanded existing ones. Most of the temples are located in the fort or around the Palace. Few of the temples existed for centuries before the Wodeyars of Mysore and some were built during their reign.
There is no doubt that the Chamundeshwari temple on top of the Chamundi hills is the most famous temple in Mysore. Goddess Chamundi is the presiding deity of the Wodeyar Royal family. This temple is dedicated to the Goddess who killed the demon Mahishasura, after whom the city of Mysore is named. Initially the temple was a small one, but under the patronage of the Wodeyars it was expanded and has become the grand temple it is today. What many people do not know is that the Mahabaleswar temple, which is also on Chamundi hills, is older than the Chamundeswari temple. This temple was a very important one, but once the Chamudeswari temple started getting extensive royal patronage the prominence of this temple began to decline.
The other important temples in the city of Mysore are - the Lakshmiramana Swamy temple, which is the oldest temple in the city, Prassana Krishanswamy temple built by Krishnaraja Wodeyar III, Shewtavarahaswamy temple built by Krishnaraja Wodeyar III and the Trineswaraswamy temple. Most of the temples were inside the Mysore Fort and close to the Palace so that the Royal family had easy access to it to offer their daily prayers.