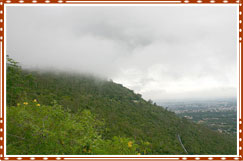 The Chamundi Hills on the outskirts of Mysore city is another famous landmark of the city. A visitor can see these hills from a distance of about 8 to 10kms while driving to this city of Palaces from any direction. The Chamundi Hills is about 3km from the city. It is at a height of 1065 meters above sea leave and about 800 feet above Mysore city. On the top of the hill is the Chamundeshwari temple that dates back to the 11th century. Goddess Chamundeshwari is an incarnation of Goddess Parvathi who took this form to destroy the demon king Mahishasura.
The city of Mysore is said to have derived its name from the demon king Mahishasura. And Goddess Chamundi is the presiding deity of the city and the Maharajas of Mysore. It is said that Dodda Devaraja Wodeyar who ruled Mysore from1659 to 1673, built the 1000 steps leading to the temple that are carved out of granite rock. He built it so that climbing the hill would be easy for the pilgrims. It is also claimed that he constructed 63 houses at the foot of the Chamundi hills and called it Devarajapura and donated it to the Brahmins caretakers of the temple.
There is a separate set of equestrian steps craved out on the hill as the Kings use horses to go to the temple. King Krishnaraja Wodeyar III added the magnificent gopuram (pyramidal temple tower) of the temple in 1825-1826. Close to the temple there is a gigantic statue of Mahishasura made of mortar and painted with bright colors. On top of the hill besides the temples there is a small palace that belongs to the Kings of Mysore called Lalithadri. Half way up the hills is a huge monolith statue of Nandi, the bull and vehicle of Lord Shiva.
The statue is 4.8 meters high. There is a temple tank called the Devikola that is used during festivals. It has a good motorable road and KSRTC (State transport) have buses that regularly ply from Mysore to the top of the hill. Taxies are available as well. Auspicious days to visit the temple are Tuesdays, Fridays and the 10 days of Dussehra. Temples is open from 7.30am to 2pm and from 3.30pm to 6pm. The tower of the temple is illuminated on festivals and on public holidays.